Application deadline date has been passed for this Job.
This job has been Expired
Project: Rice Value Chain (RVC) Improvement Project in the Central Region of Ghana.
Post Date:

December 24, 2021

Views

186
0

Applications
Job Description
Background
The Rice Value Chain (RVC) improvement project is a project being implemented to improve rice production in Ghana, specifically in the Central Region. It is funded by the Korea International Cooperation Agency (KOICA)/ Government of the Republic of Korea in partnership with the Ministry of Food and Agriculture (MoFA) of the Government of Ghana. The Project Management. Consultant (PMC), is the Dankook International Cooperation on Agriculture (DICA) which is responsible for general project coordination and management as well as training and capacity development. The United Nations Office for Project Services (UNOPS) is the implementing agency responsible for the procurement and delivery of infrastructure & Agric equipment. Initiated in November 2020, the RVC project intends to support smallholder farmer organizations and other the rice value chain actors to promote sustainable rice production and enhance efforts towards achieving the Sustainable Development Goal 2: which is to End hunger, achieve food security and improved nutrition while promoting sustainable agriculture.
The PMC (DICA) now requests the services of an implementing partner/organisation for the implementation of the local capacity development and local rice brand development components of the Project.
Section 1: Bidding Outline
1. Brief on the Bidding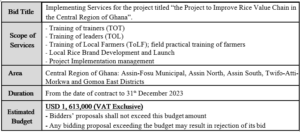 1.1 Employer: Dankook International Cooperation Agency (DICA)
1.2 Bid Type: International competitive bidding
1.3 Selection of the Successful Bidder: Contract by negotiation
Evaluation: Technical Proposal (85%) + Price Proposal (15%)
Preferential negotiation with the bidder of the highest score
The DICA contracting officer may conclude a contract for the procurement of services by negotiation with a person deemed to be most favorable to DICA and the funding agency after evaluating the written proposals submitted by a number of
1.4 Language of proposal: English
1.5 Currency of proposal: United States Dollar (USD)
1.6 Joint Venture: Not allowed
1.7 DICA PMC office and funding agency requires the highest ethical standards from bidders and contractors during the execution of the contract. In line with this policy, DICA will:
reject a proposal if it determined that the bidder has engaged in any corrupt or fraudulent practices in competing for the contract in question;
recognize constructor such contractor above as ineligible for a period determined by DICA and donor agency in Ghana.
1.8 DICA will not be responsible for any cost or expenses incurred by bidders in connection with the preparation or delivery of
1.9 Bidders are expected to examine all instructions, forms, terms and specifications in the preparation for bid documents. Failure to submit all required bidding documents or submission of a bid not substantially responsive to the bidding documents in every respect shall be at the bidder's risk and may result in the rejection of the bid
2. Bid Process
2.1 Bid Explanation Meeting: Bidders who want to participate in the Bid Explanation Meeting MUST confirm the participation via email to dicaghana.office@gmail.com by 29th December 2021.
– Date: 6th January 2022, 10:00am
– Venue: In Cape Coast. A specific venue/mode will be announced later to the confirmed participants.
– Providing documents: Request for Proposal (RFP). DICA Ghana Office will provides soft copies version of the document to the bidders (Bidders who want to receive soft copy of the document are requested to do so through email).
2.2 Asking Questions on Bid: Only by email to dicaghana.office@gmail.com from 28th December 2021 to 14th January 2022.
2.3 Field Tour: NOT POSSIBLE
2.4. Proposal submission: All Proposals must be received by DICA Ghana office at the address specified below not later than 5:00 pm on 28th January 2022.
– The proposals must be labelled and clearly marked "PROPOSAL FOR IMPLEMENTING SERVICES, RVC IMPROVEMENT PROJECT". Both inside envelopes shall indicate your firm's name and address. The first inner sealed envelope shall be marked "Technical Proposal" and contain the technical component of your proposal. The second inner sealed envelope shall be marked "Price Proposal" and include your price component.
2.5. Technical Ability Evaluation (including presentation by bidders) will be held on 8th February 2022. Other details will be announced later.
2.6. Notice of Bid Result: 16th February 2022.
3. Contact Information
Address:
KOICA Rice Value Chain Improvement Project.
DICA. GHANA OFFICE| KOICA PMC.
Cape Coast, Ghana.
– Tel: +233 248157443 (Contact Person: Mr. Clement W. Yakubu)
– Email: dicaghana.office@gmail.com