What Is a Career Path? (+How to Choose a Career Path)
Navigating your career path can feel a bit like traversing the meandering yellow brick road.
Dorothy took that gilded path to the Emerald City to find the Wizard of Oz — a person she believed had the power to better her life by sending her home.
Career paths are typically not as clear (or gilded) as Dorothy's road. We don't always know how to find the best support in choosing our path. If your current manager or company fails to promote your professional development, fear not: There are clear steps to follow to create your own career path and begin your career growth.
Career path development
People looking to chart a course for their career path can employ career pathing to visualize their career development plans. Let's get into what makes a career path and how to choose a career path, as well as review some career path examples.
What is a career path?
A career path comprises a group of (typically related) jobs that an individual work on the path toward their career goals. Career paths tend to result in vertical growth, moving from entry-level to management positions, but they can also include lateral moves in which an individual maintains similar roles across disparate industries.
Individuals can best navigate their personal career paths by creating career plans to map out relevant career clusters. Career plans include short- and long-term goals that help an individual reach their ideal career. Meanwhile, career clusters contain groups of occupations and industries that share common features. Career clusters can be used to help individuals understand the skills and knowledge that they need to develop to be successful within their chosen careers.
Between 1978 and 2008, Americans between the ages of 18–44 changed jobs an average of 12 times during their career. A career pathway can help individuals determine how to move from one position to another within a career cluster. But what about those who are just starting out and haven't decided on a career, or those who are dissatisfied with their current career path?
There are three major types of career seekers in need of career planning:
Newbies just getting their careers started. These include recent graduates from community colleges, trade schools, and apprenticeship programs, as well as those with undergraduate and graduate degrees.
Workers who have been trekking down a particular path but are looking to make a career change and forge a new path. These individuals might need additional coaching, training or advanced degrees.
Individuals seeking to continue down their current career path but are in need of career management support in order to keep from stagnating.
Deciding on a first career or a career change is a daunting task, and like any major life decision, it's helpful to break it down into small bite-sized pieces.
How to choose a career path
If you are thinking about changing your career or redesigning your career path and don't know where to start, consider the following:
1. Zeal
First things first, what are you passionate about? What do you spend your time thinking about when you're at your current job or when you're daydreaming? If you could shoot for that luminous spheroid of plasma in the sky, what would you aim for?
2. Expertise
What is your skillset? Are you someone who sees the beauty in numbers, patterns and proofs? Maybe you enjoy elucidating complex problems, or perhaps you love putting the metaphorical ink to paper. All careers require both soft and technical skills, and it helps to determine what you already do well and what skills you need to further develop.
3. Personality
Who are you and what is your personality type? Are you a strong-willed leader, a creative free spirit or perhaps a strategic thinker? Personality tests are a good way to provide further insight or simply confirm what you already know.
4. Education
You've identified what you like and what you're good at. Now to further develop your skills or learn something new, there are seemingly myriad classes to take to develop your skills.
5. Money
What are your salary requirements? Determine your range of what you'd like to make and what you need to make. (Check out Rasmussen College's quiz for insight into skills as they relate to job clusters and salary ranges.)
TIP: No matter which industry you work in, you should feel that your salary expectations are within reach. Learn how to ask for a raise so you're prepared to have that conversation the time comes.
6. Networking
Build your network. Start with people you know: friends, family, colleagues, classmates, and acquaintances and then work on expanding. Connect with your peers at local events, follow thought leaders in your field of interest on LinkedIn, reach out to contacts from your network and join relevant associations and professional development groups.
7. Informational interviews
These are an absolute must for anyone looking to clarify or verify their career interests. Speaking with people who currently hold the position you are interested in will provide you with valuable insight that you may not be able to get anywhere else. They will be able to give it to you straight, warts and all.
8. Mentoring
These long-term relationships are often one-on-one, coach-driven or group-based and focus on supporting the development and growth of those seeking mentorship. Increasingly, organizations are using mentoring software to design, recruit, match and manage mentoring initiatives.
9. Career coaches
These experts can help guide career seekers through their job search, provide resume writing help and prepare candidates for interviews or promotions.
10. Internships
These are especially beneficial for career seekers just out of school or about to graduate with a degree or certificate. One can usually seek out internship assistance through their university or school. Likewise, companies often advertise internships through their career pages.
11. Temporary job placements
Freelance platforms and staffing agencies can be a great way to get your feet wet in your desired field. Freelance platforms help connect businesses to freelancers, and staffing agencies help place candidates in short- or long-term openings across industries and positions.
Examples of career paths
The following are a few examples of career paths that individuals could traverse while working through advertising, engineering, HR and sales, to name a few. These are not exhaustive lists of career options along individual career paths. They are meant to provide a general idea of what a career in varying fields might look like.
Administrative Assistant → Executive Assistant → Office Manager
Account Coordinator → Assistant Account Executive → Account Executive → Major Account Executive
Editorial Assistant → Assistant Editor → Associate Editor → Editor → Senior Editor → Editorial Director
Associate Engineer → Junior Engineer → Senior Engineer → Project Engineer → Engineering Consultant
HR Resources Clerk → HR Assistant → Recruiter → Training and Development Coordinator → Payroll or Benefits Specialist → HR Generalist → HR Manager → Assistant Director of HR → Director of HR → VP of Human Resources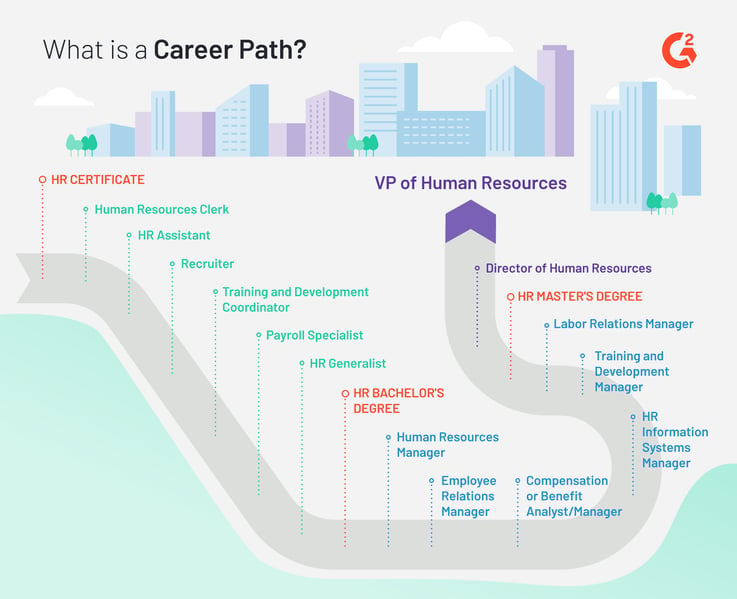 Retail Sales Clerk → Assistant Manager → Department Manager → Store Manager → Regional Manager
Customer Service Representative → Internal Salesperson → External Salesperson → Major Account Salesperson → Regional Sales Manager
We use cookies to provide you with the best possible user experience. By continuing to use our site, you agree to their use.
Learn more